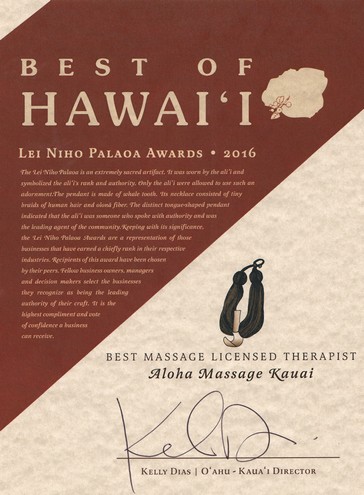 Best of Hawaii: Aloha Massage Kauai
Over 600 business leaders and residents of Kaua'i were surveyed and voted Aloha Massage Kaua'i the "Best Massage Therapists" on Kaua'i. This exciting recognition means that we are succeeding in our mission to bring together the best massage therapists on Kauai and then individually match every client with the best therapist available to meet their needs.
We are grateful to all of the expert massage therapists we serve, whose combined talents comprise the best imaginable therapist, and would love to sing their praises here in gratitude for what each and every one of them has brought to the team:
Asheeliya, whose extremely skilled therapeutic touch merges with a spa relaxation background and a clarity of spirit to create profound healing opportunities for her clients.
Megan, whose "deep flow" style combines skilled Swedish massage with fluid myofascial release techniques for a Deep Swedish style that is incredibly relaxing and yet highly therapeutic.
Hillary, whose lovely Lomi Lomi background is augmented by Thai massage and Lee Joseph's awareness-centered presence techniques to create therapeutic versatility and many happy clients.
Amy S, whose superb therapeutic skills merge with sensitively deep and aware touch for outstanding therapeutic effect that is also very relaxing.
Stephany, whose clients consistently rave about her Deep Tissue and Deep Lomi Lomi massage, and has over 20 years of experience.
Kim, a master Craniosacral therapist who also offers Chi Nei Tsang and teaches Quantum Touch. She is considered a local expert and very highly regarded for her work with children and infants as well as adults..
Lisa, who has 10 years of spa experience in every style of massage from lomi Lomi to Swedish to Deep Tissue. Always attentive and focused on her client's needs, she brings a high degree of presence, professionalism, and skill to every massage.
Kalaya, a master Sports Massage therapist with over 25 years of expertise. When I hurt my back, she's who I go see.
Ellis, a gifted and very strong therapist whose touch is sublimely deep yet pleasantly sensitive; he is skilled in a wide range of modalities.
Maggie, who was a teaching assistant for Structural Integration at one of the best local massage schools, yet delivers lovely Lomi Lomi and Deep Lomi Lomi massages too.
Eve, who is now the head teacher of connective tissue and Myofascial release techniques at the Pacific Center for Awareness and Bodywork. Not a relaxation masseuse, she specializes in therapeutic rehabilitation for injuries and alignment issues, including Structural Integration.
Ivon, a certified Rolfer, who also works at a chiropractor's office. She specializes in therapeutic & rehabilitative massage, including Sports Massage, Deep Tissue Massage and Rolfing, but can also deliver a lovely relaxation or Swedish Massage.
Carole, who has over 40 years of teaching experience and is a master therapist in all common modalities, especially Swedish massage. Her Deep Tissue, prenatal, and spa Lomi Lomi massages are also wonderful. She runs her own massage school in Moloaa.
Kenny, a master Rolfer carrying the impeccable lineage of Ida Rolf via Emmet Hutchins, who he is a teaching assistant for at the Guild for Structural Integration here on Kaua'i. He is also Kahuna-trained in Lomi Lomi massage, which has imbued him with a unique ability to provide massages that draw from the best of both worlds: as relaxing as Lomi Lomi, as technical and effective as Rolfing. Truly a master therapist.
David, who has over 20 years of spa experience and is proficient at all major modalities, including Lomi Lomi, Swedish massage, sports massage and deep tissue.
Koi has over a decade of experience, ranging from various spas to chiropractic and Physical Therapy offices. Her work embodies an intuitive blend of relaxation and therapeutic massage. She specializes in neck pain and injury, as well as Deep Lomi Lomi and energy work.
Mahealani, who is Kahuna-trained by Aunty Margaret Machado and carries her lineage. She is a Lomi Lomi specialist and her massages are profoundly state-altering, including her (expert) beach massages.
Christopher, who delivers a lovely Lomi Lomi massage but is also trained in awareness-centered, compassion-driven deep-tissue massage for divinely therapeutic massages that consistently delight his clients.
Hollis, a former midwife and master therapist who is excellent in all modalities and excels at prenatal massage.
Tory, an expert Deep Tissue masseuse with a great deal of skill, experience, and versatility.
Kristie, who specializes in Mana Lomi and also does excellent deep work.
Azha, a Lomi Lomi specialist.
Amy B, a highly professional therapist often available even on short notice who specializes in Lomi Lomi but also does lovely Swedish and relaxation massages.
Kristal, a very gentle and high-vibe therapist who specializes in Lomi Lomi, Swedish, and relaxation massages.
Ty, who also works at one of the elite spas on Kauai, offers the same quality of treatment for a fraction of the cost with us. He specializes in therapeutic work and is a wonderful asset to our team!
Debbie, our intrepid leader, who put this amazing team together and serves as backup for all of them. She's also pretty darn good at Deep Tissue and Deep Lomi Lomi massage.
It is with greatest gratitude that I sing the praises of all these gifted therapists, who currently comprise the Aloha Massage Kaua'i team. Their diverse, expert skills allow us to individually match every client who calls with the best therapist available in their area to meet their needs - whether it's for specific therapeutic work or just a nice vacation relaxation massage. All of these awesome professionals are licensedand love providing expert massages in Kauai's loveliest locations.
These therapists are based throughout the island, from Poipu to Princeville, so wherever you are looking to receive your massage - from Ha'ena to Waimea, we have expert massage therapists available.
So feel free to give us a call and let us know exactly what you need so we can match you with the right therapist. Advance notice is highly recommended, especially if you are seeking the services of a specific master therapist, but many (most) of our therapists are frequently still available even on short notice.
Have a beautiful day!
Debbie
Aloha Massage Kauai
Kauai's Premier Massage Service
(808) 635-2789(808) 635-2789